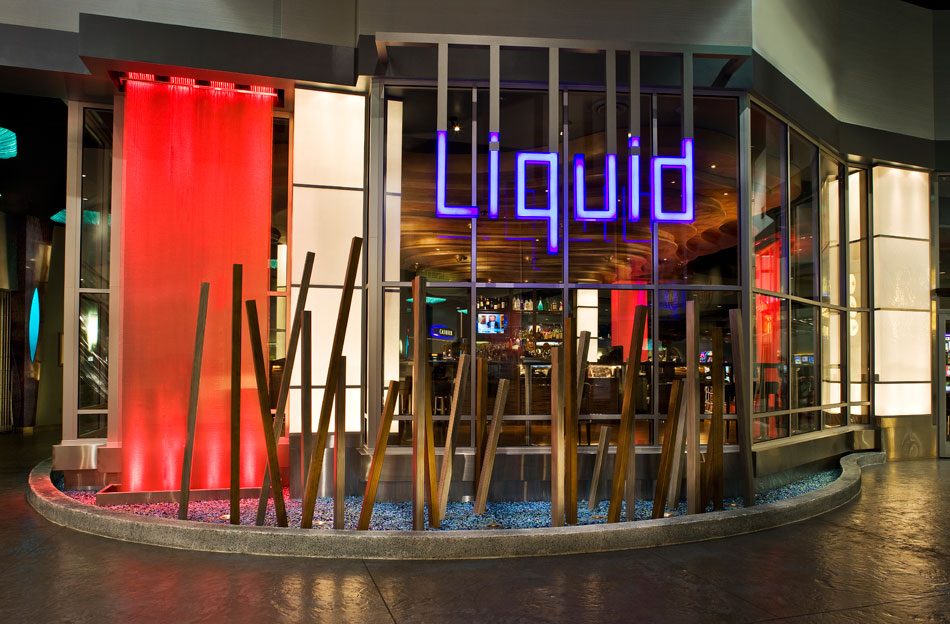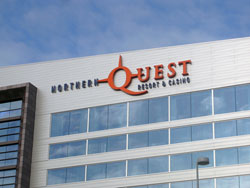 When Northern Quest Casino & Resort in Spokane, Washington recently embarked upon a major, 346,000 SF expansion led by architects at Hnedak Bobo Group, they included a complete signage and wayfinding overhaul to reflect the aesthetic of the owning Kalispel Tribe.
The design challenge was not only to create handsome graphics and pieces, but also to effectively guide guests through the massive facility. With its partners at HBG, Lorenc+Yoo designed a system that hit every point.
The jewel of the redesign is the lobby level Liquid bar. With its wide, high ceilings, Liquid is an open, inviting space thanks to the use of wood, bronze, glass, stone and other natural materials. Natural light floods the space during the day, while dramatic lighting sets the mood at night. A large archway guides people inside, presenting lettering that appears to drip downward.
The design is clean, considered, and designed to appeal to patrons of many tastes. It is a modern take on the heritage of the Kalispel Tribe whose roots in the tree-lined hills of the Pacific northwest span centuries.
Responding to the muted lighting throughout the hotel, wayfinding pieces are gently lit from the inside and hang on the side of walls throughout the campus. Small touches like bright red lights again draw guests' attention to important information.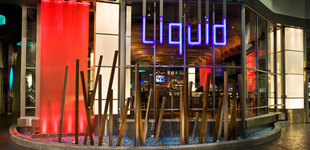 Outside, the team integrated contemporary materials with traditional Native American themes such as the lantern and earth for the designs for the parking deck signage, building signage, and landmark pieces. Following the aesthetic theme, the finishing touch on the landmark sign is a vertical light rising like a beacon.
Lorenc+Yoo also designed the logo for the resort, incorporating the quest theme by integrating a compass graphic into the letter Q. Punchy, red coloration accents the sign on the side of the main building, making it visible for miles.
The graphics of Northern Quest Casino & Resort is the latest successful collaboration between Hnedak Bobo Group and Lorenc+Yoo Design.