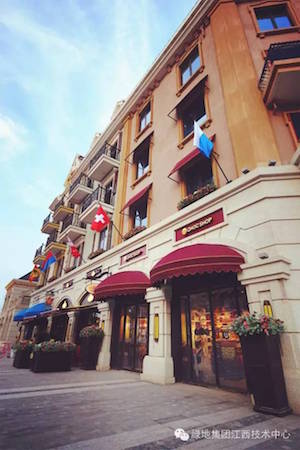 A city is an organic thing, growing, contracting, and otherwise changing depending on the needs and uses of the people who live there.
This peculiarity of cities makes it a real challenge to successfully build one from scratch, yet that was exactly the challenge brought to Lorenc+Yoo Design for the masterplan of Greenland's "The Lucerne Town" mixed-use development project in Nanchang, China.
Greenland's vision was to create the complete Swiss experience for a sophisticated Chinese clientele. The goal was to create a human-scaled urban environment that would offer Nanchang's five million inhabitants authentic Swiss living, shopping, and recreational experiences.
The Lorenc+Yoo design team reviewed the master plan and architectural design with SWA Group and Shanghai Bo Tao Architecture Design, identifying opportunities to include sculpture, color palettes, and emblematic building tops that would give residents and visitors an authentic Lucerne experience.
Perhaps the largest task was to develop how the overall project would be experienced upon various roadway approaches, as well as planning the sales experience. From entering by car to concluding the purchase of a residential unit, each step needed to be orchestrated in great detail.
Identifiable Lucerne materials and colors are present at all points of the experience to differentiate the development from anything around it.
The design team added custom elements to embellish the town hall, including a decorative frieze applied at its cornice that enhances the appearance as a significant public building, and delicate eye-level details of the lower porch, lanterns, and entryways.
Lorenc+Yoo created a series of frescos onto the building façades that speak to Swiss folklore and fairy tales, and poster kiosks around the town core area feature classic Swiss graphic design posters, promoting Switzerland's unique graphic design legacy. The representations of important Swiss figures such as William Tell in the city center were selected with great care to enhance the development's authentic character.
Everywhere you turn in The Lucerne Town, you are exposed to the unique character, history, and experience of the real thing.
Lorenc+Yoo is proud to have been charged with managing The Lucerne Town's visual experience from the entrances to the town core. The Swiss-inspired storyline with design detail provide a luxurious and unique character to those who choose to live, work, and play there.
Additional images can be found in a Chinese-language article here.